Call us today at 800-767-3574
Orlando Golf Packages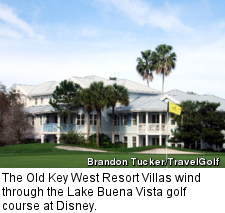 Walt Disney World has just about as many accommodation possibilities as it has furry little characters running around its many attractions. And for golfers, staying at a Disney property comes with many benefits, including free transportation, discounted green fees, advanced tee times and more.
---
Looking for Orlando Golf Packages? Look no further! SpecialGolfPackages and GulfCoast Golf Tours brings to you customized golf packages to the most popular Golf Destinations in America. We offer the best rates for Orlando and many more. With our customized Orlando golf packages, your Golf Vacation can become a memorable reality. We handle everything from Air Travel to Tee Times, and can plan something special for the non-Golfer too.
At SpecialGolfPackages, we are proud to offer the finest collection of custom Orlando golf packages, golf travel, tee times, accommodations for your perfect golf vacations. Simply complete our easy request form and we will get back to you with custom package prices. Your request is absolutely free, and you are under no obligation!
Orlando plays host to two PGA Tour events and an LPGA tournament -- something few cities can claim. All three tournaments (The Bay Hill Invitational, the Walt Disney World National Car Rental, and the JC Penny After school Open) are held at courses open to the public. In fact, private courses are the exception around "O-Town" and not the rule.
Orlando is the home of the Golf Channel, Tiger Woods, Arnold Palmer, top-notch golf schools, and the annual PGA Merchandise Show, which attracts nearly 50,000 industry professionals each year? The PGA headquarters and the World Golf Village are just a morning road trip away, as are the golf rich towns of Tampa and Daytona.
Depending on whom you ask, there are between 100 and 150 golf courses in the greater Orlando area. The most accurate assessment is somewhere in between, but the fact remains that any town with this many golf tracks and 110,000 hotel rooms should be considered a major, national golf destination.
SpecialGolfPackages can provide you with advance tee times to some of the Orlando's most popular and renowned golf courses, all at affordable package prices.
GulfCoast Golf Tours
Call Now! 800-767-3574